Takamaka Houseboat
From bow to stern, Takamaka is brimming with an fantastic array of social, dining and relaxing areas, both inside and out, making her the ideal houseboat for relaxing and entertaining whilst on charter. She has sensational features such as a hot tub, coffee machine, bluetooth surround sound and all of the amenities you may need. The Lake is synonymous with house-boating, offering leisurely excursions filled with sun-drenched days and star-studded nights.
Guest Accommodation
Refurbished in 2022, Takamaka offers guest accommodation for up to 12 guests in 5 suites, comprising 4 master suites and a 4 berth bunk bed cabin. There are 8 beds in total, including 4 king size beds and 4 singles. A crew of three, who specialize in creating exceptional charters, are on hand to provide guests with a houseboat charter vacation on Lake Kariba to remember.
Onboard comfort and entertainment
You and your guests can enjoy a variety of experiences on Takamaka:
Excursions on the tender-boat
Explore the lake
Sundowner cocktails catching the beautiful sunsets
Early morning fishing
Yoga – yoga mats in the cupboard near the bar
Star gazing – on the top deck
Bird and small wildlife spotting
Board games – stored near the lounge
Hiking
Fishing and night time vundu fishing
BBQ's on the beach and on board
Bonfire on the beach
Swimming – on deck pool chlorinated and heated, as well as a swim cage off the back of the boat
WiFi on board
Onboard Library
Coffee Machine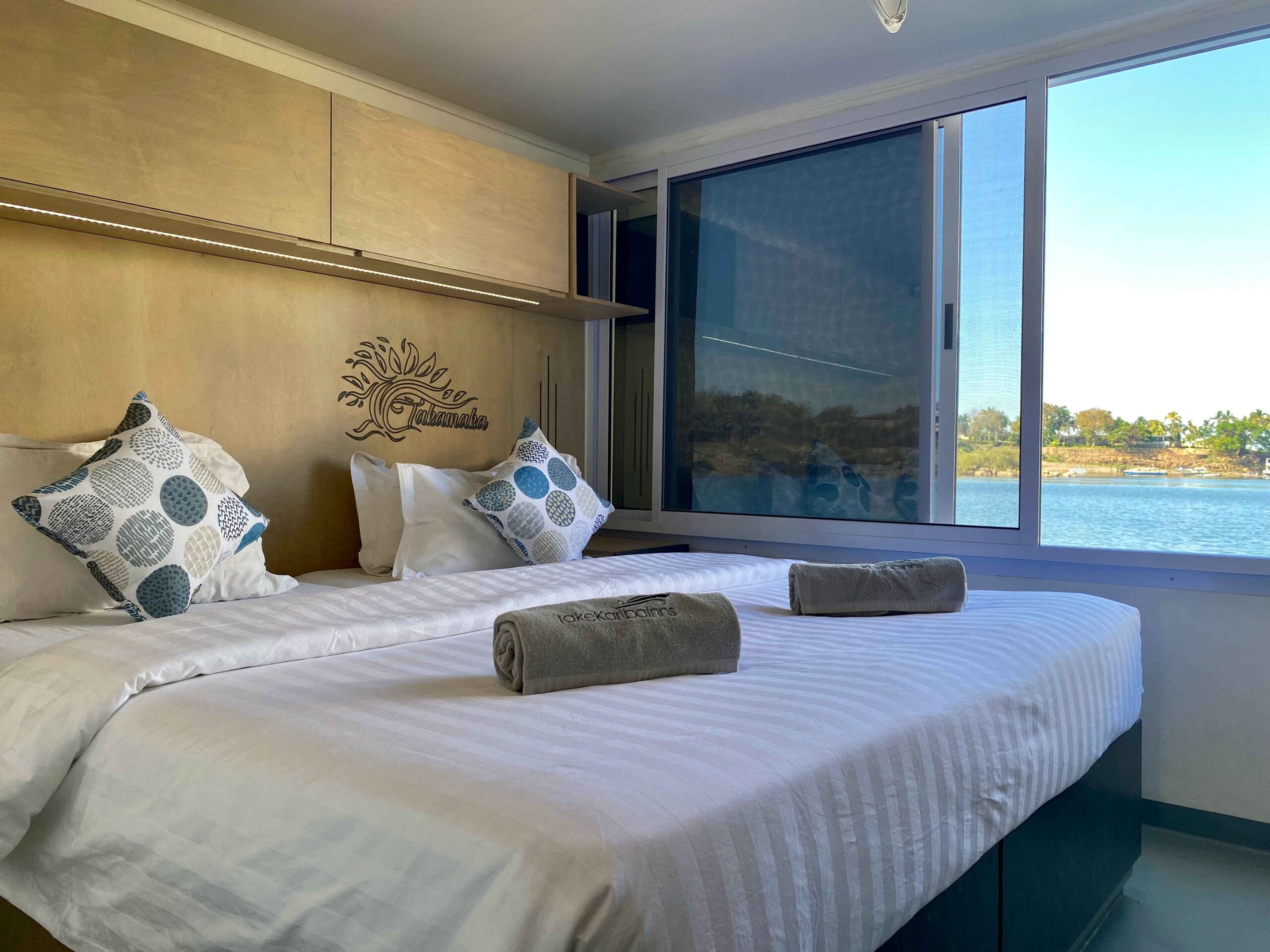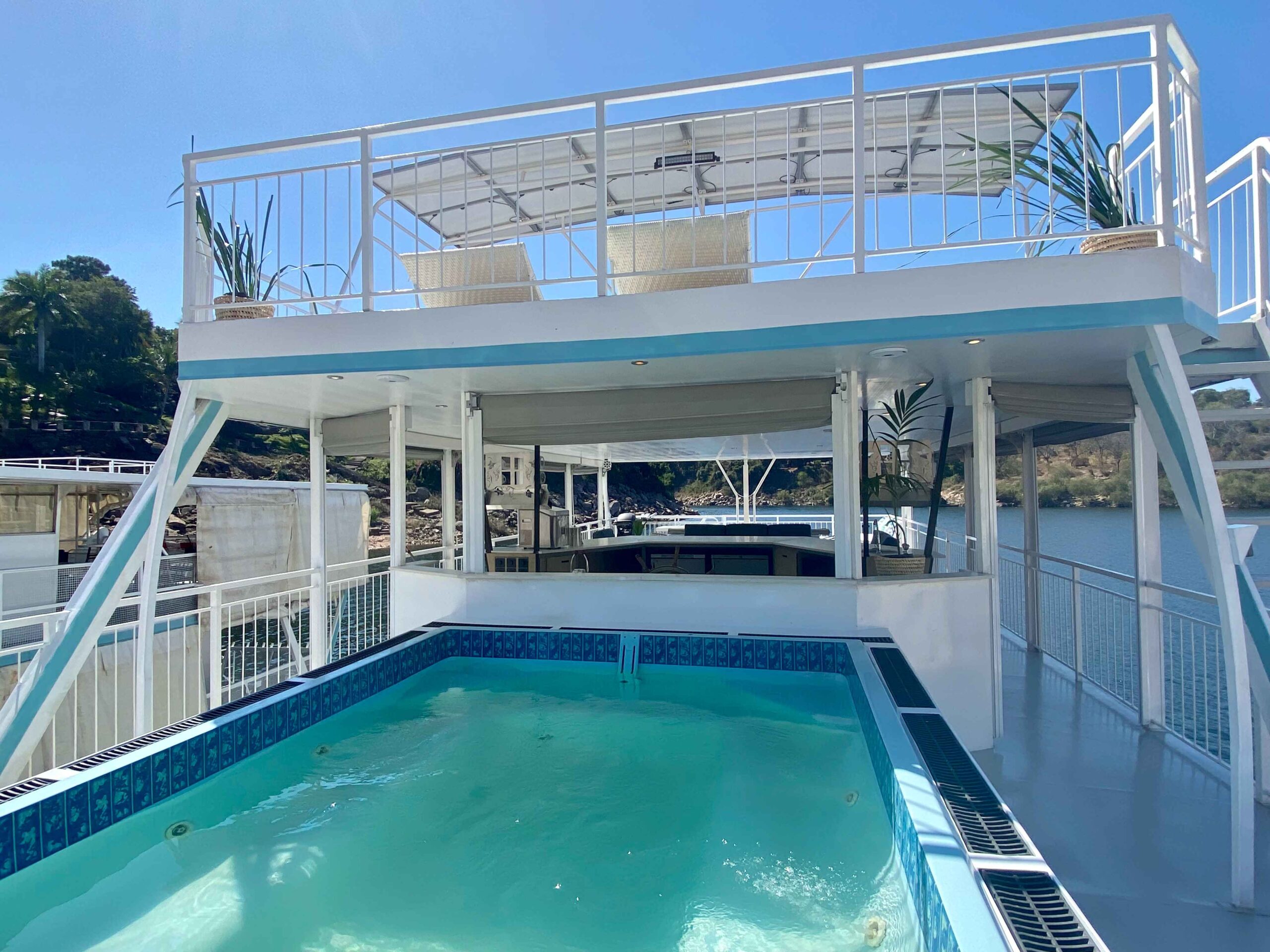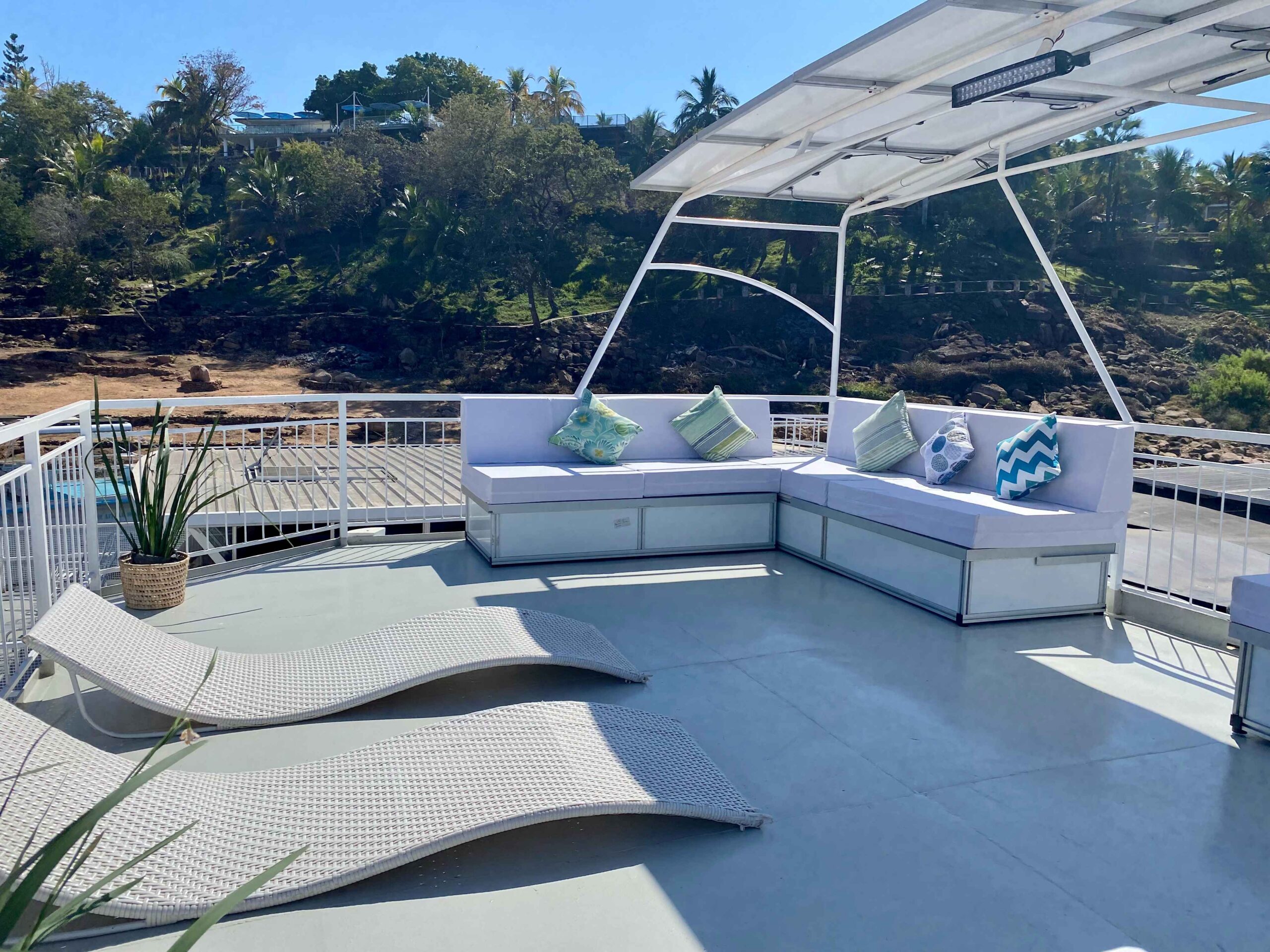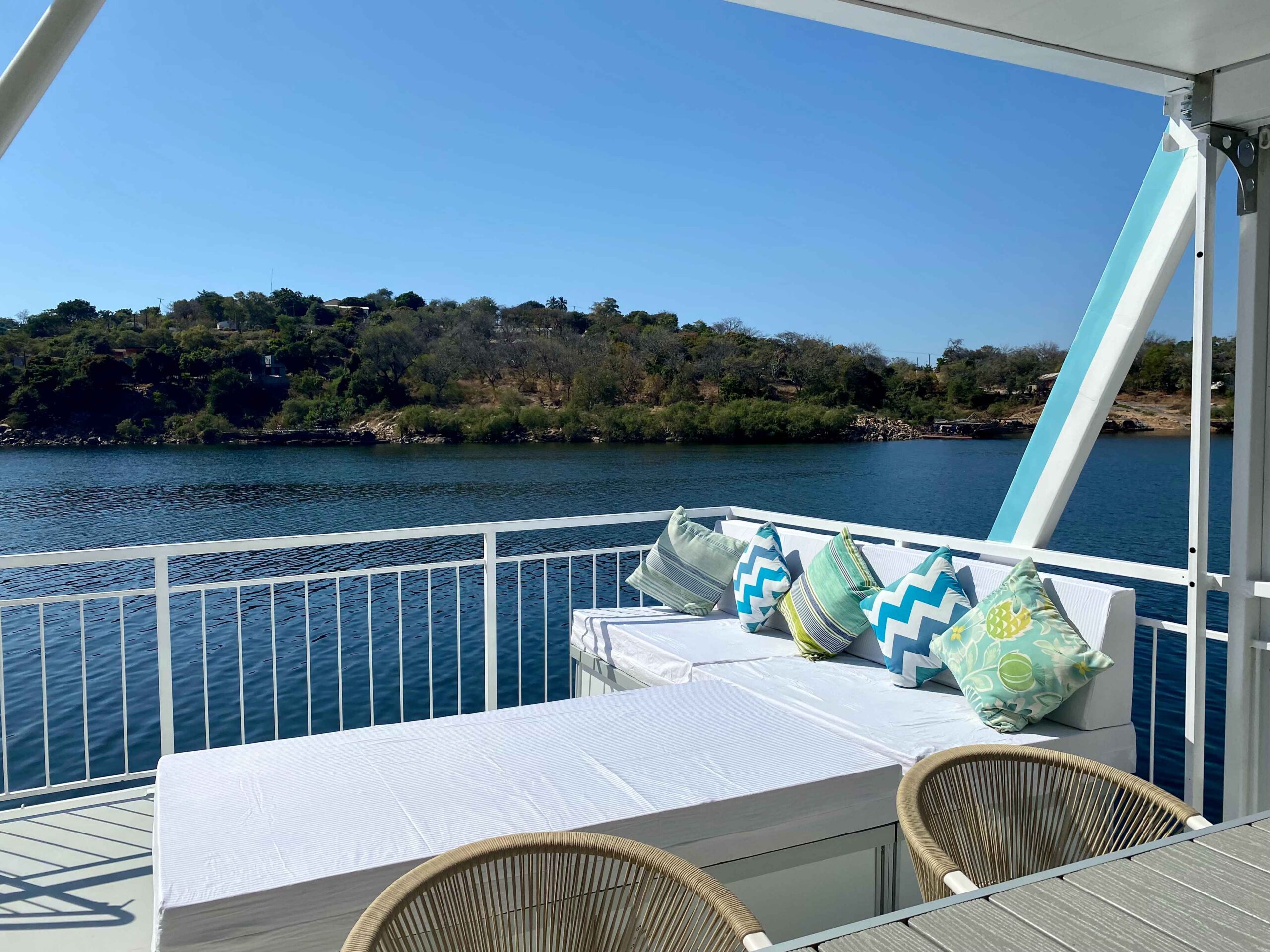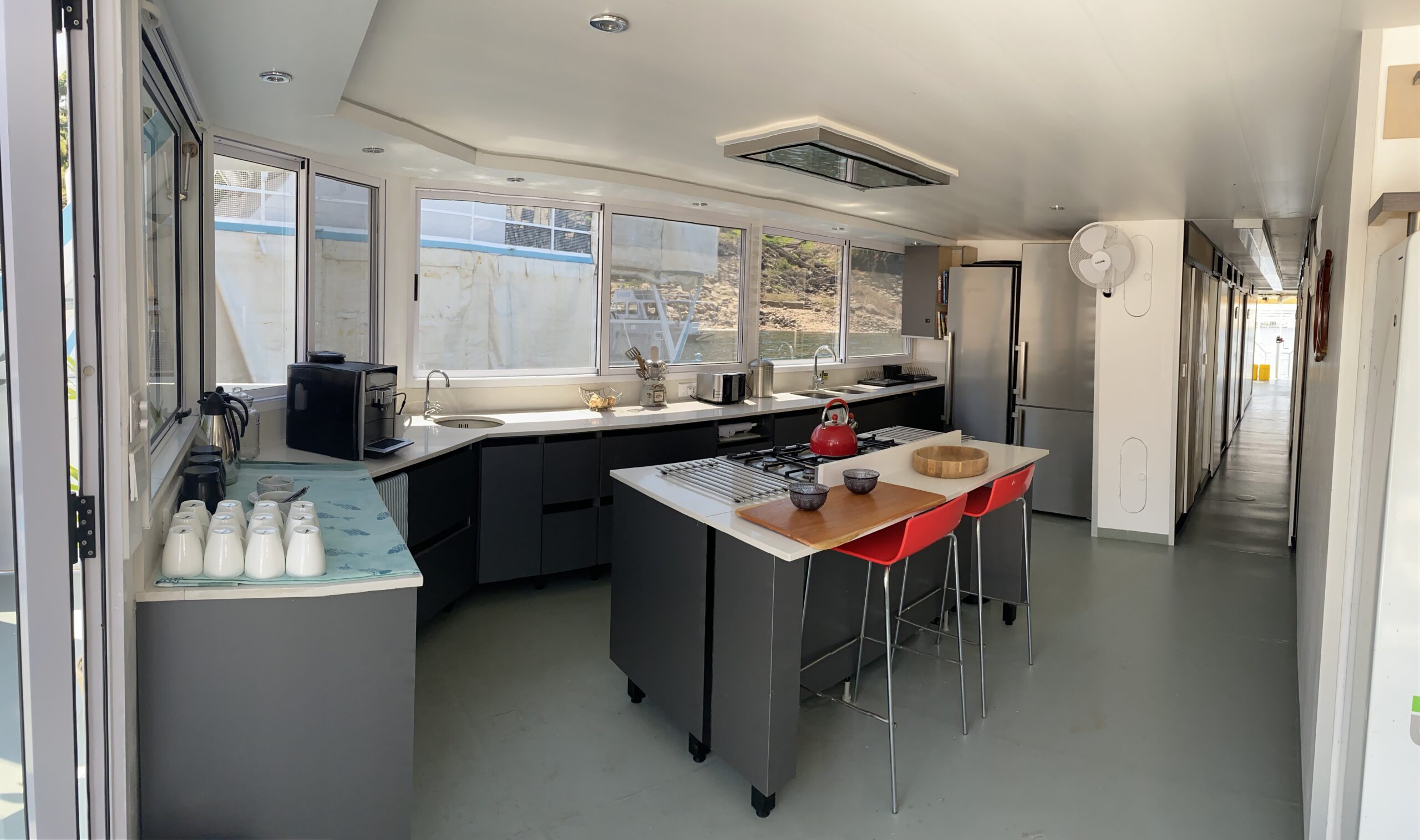 Facilities, Specifications & Extra Information
Maximum Guests 12
Crew of 3 (Captain, chef and deck hand)
Cruising Speed 10 knots
Cabins- 5 cabins 4 Double en-suite cabins and a 1 x 4 berth bunk bedroom with a guest bathroom across the passage
Fully Solar powered – 24 Volt and 12 Volt
Hot water is supplied by a Palomo gas water heaters
Kitchen- fully equipped that uses Gas and Electricity
Bar- fully fitted bar with 3 fridges and ice machine
Music on board- bluetooth surround sound music system
Wifi
Power points- square plugs and USB points throughout the boat, round pin power point is available in the kitchen
Swimming- the on deck pool chlorinated and heated, there is also swim cage off the back of the boat
Ice machine on board
The top deck offers ample space to soak up the Kariba sun and enjoy magnificent sunsets over sundowners
BBQ on board
Tender boat- 1 Pontoon Type Tender Boat ( 1 x 10pax) for fishing and lake excursions Please
Note: Tender Boats are for fishing and excursions in the vicinity of the houseboat and are strictly crew driven. Should you require a speed boat for long distance fishing, please either bring your own which will be towed behind the houseboat, (please bring your own rope for towing and fuel) or you can hire a speed boat from Lake Kariba Inns. (Contact us for details).
Child Friendly-Railings and closable gates making it a child friendly houseboat (although children must be watched at all times)
Moored at Lake Kariba Inns Harbour, Siavonga
Secure parking within the grounds of Lake Kariba Inns with power points for caravans/camping fridges at Lake Kariba Inns Harbour
Boarding at 2:00pm and disembarking at 10:00am